Subanen cultural heritage is alive and thriving in Misamis Occidental as was shown in the recently held 9th Pas'ungko S'g Mis Occ Festival, a highlight of the province's 89th anniversary celebration, and a thanksgiving celebration for the abundance of blessings among the Subanen tribe.
Representing Tourism Secretary Bernadette Romulo-Puyat, Assistant Secretary Myra V. Abubakar expressed her thanks to the festival organizers for giving importance to culture, especially that of the Subanen.
"Festivities like this make us Filipinos distinct from other countries and we should always be proud of who we are." Assistant Secretary Abubakar said.
The festival's highlight is the annual street dance competition, which was joined by hundreds of students from various schools in the province, including the out-of school youth.
According to DOT Region 10 Director May Unchuan, the event was attended by at least 7,000, reaching the maximum capacity of the Misamis Occidental Provincial Athletic Complex (MOPAC) Grandstand.
The Pas'ungko street dance competition promotes cultural sensitivity through its carefully crafted presentations which were reported to be studied exhaustively before being rendered into artful performances.
Each of the 11 competing contingents showed accurate representation of the Subanen tribe, from their traditional attires that tell of the tribe's rich history and culture, to their symbolic rituals and vibrant folk literature.
Echoing the advocacy of Secretary Puyat, Assistant Secretary Abubakar underscored the importance of preserving the identity and culture of indigenous tribes, and organizing events for the public so that they may witness and be reminded of their ancestors' legacy.
"This is what our Secretary Bernadette Romulo-Puyat is pushing for, advancing her long time advocacy for sustainable living. It is the same driving principle that she has brought in the tourism bowl, expanding it further to promote sustainable tourism. Today's celebration is not only an invitation for now, we should work harder so that our future generation may enjoy what we have this moment. Let this be our gift to them in the future."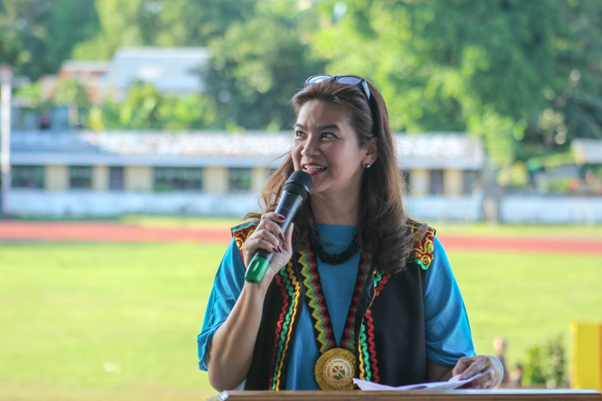 Assistant Secretary Myra Paz Abubakar attended the 9th Pas'ungko Festival in Misamis Occidental on behalf of Tourism Secretary Bernadette Romulo-Puyat